When my mother came, she stayed by her side the whole time. In the bathroom, bedroom, and every room.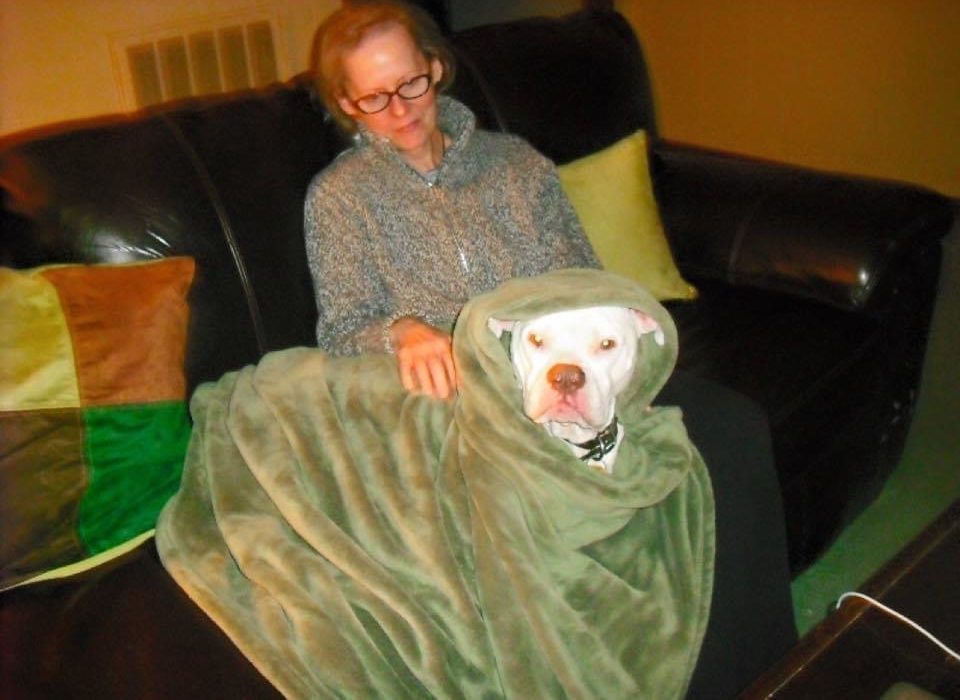 I never knew my life could be like this. I have lived by myself for quite a while now. I have always had cats and they are the love of my life; but they do not provide much in the motivation department. I grew up with big hunting dogs that fortunately my father owned and had the burden of their care. I have loved every animal that has come into my life, sometimes even more than people. I felt that my life had become dark over the past year. I am a night nurse and sleep during the day, am awake all night, and am not really the social butterfly I had always hoped to be. For some reason I started recording Cesar Milan's, The Dog Whisperer, TV series. I didn't have a dog at that point, but I really enjoyed his way with animals and people. I watched this show for over six months.
I am fortunate to be able to travel with my family, and we had an exceptionally nice trip planned for September. We were to see my mother's best friend, husband, and son in San Francisco, then travel up the coast for a family reunion. Once I arrived in San Francisco, there was no doubt in my mind that my life needed to change. They have four dogs among them and it just seemed to work. Dogs sticking their noses in your crotch, silent but deadly poots that no one mentions, sweet licks of love, and animals brushing by you just because. One dog in particular, a Pomeranian, was pleased to just settle in the nook of my arm. If I could have held him all day, he would have let me. He was calm, content, and at his happiest when being held by a human. He slept with me one night and I was hooked. How loving they are! My airplane breath, irritable traveling mood, and emotional issues did not detour this sweet creature. I knew then that my life was definitely going to change.
When I returned home, I secretly searched for the animal I had always wanted – a PIT BULL. This is why I had never gotten a dog, because I had always secretly loved the hated, feared, aggressive PIT BULL. The response I would receive from people was just plain negative. There are also many restrictions where I live, so I considered the American bulldog. I searched for a few days online and came across "Hearts of Gold Pit Rescue". When I saw her face, I knew it immediately. She was the one! My LuLu.
My stomach turned. Could I handle the responsibility? I contacted Donna to discuss possibly adopting LuLu and she was very leery of a single female who had never owned a dog,. She didn't give in easily. She discussed the breed with me, stereotypes, local ordinances, and for God's sake I owned cats. Donna was not what I expected. She wasn't giving up Lulu overnight. She made me think about it – almost a month I waited, but I wasn't one to lose a challenge. I obtained all the information that Donna required and actually worked hard to please her. I had made up my mind that LuLu was going to spend her life with me. The day Donna let me pick her up was the most nerve wracking and glorious day of my life.
I arrived at my destination: Donnas' quiet home in Memphis where LuLu lived. She greeted me, "Go around the back, Alex. There's a noise ordinance, and I don't want all the dogs to start barking." Okay. I thought how many could there be? I loved Donna immediately, strong but kind, sassy and funny. We signed papers and then my heart dropped when she came through the door. My beautiful white American Bulldog Pit-Bull Mix with hazel eyes-gorgeous. Of course, she was still attached to Donna and she didn't really even notice me; but I knew she was the dog for me. She was not a baby but still a silly, little puppy. I was nervous. Then Donna said, "Why don't you come in the house and see what I do." I thought that was fantastic!
When I walked in I saw the most glorious vision. Pit bulls were everywhere. They were kenneled in this woman's living and dining room. They started barking at me and Donna without hesitation gave the command, " Everyone quiet!!!" The room was silent. She said, "This nice lady is taking LuLu home and we need to say goodbye. There were fourteen dogs between two rooms, and one at a time a few chosen barks were offered. It was remarkable that this woman loved these animals so much that she would give up her home to share her life with them. There was no animal odor and dogs were patiently waiting their turn for whatever was next. She was preparing dinner for them, running them in her backyard, and deciding which one would sleep with her that evening. I was extremely moved. I knew that my baby's temperament would reflect this woman's inner self and I was pleased. Lulu was shy for three days. After that my life changed in the most wonderful way that I can hardly explain.
I took LuLu to the local Animal Services where the Director fell in love with her. He said, "Don't worry, Alex we won't have any problems with her". I own quite an impressive dog. She can turn anyone her way with her loving and giving disposition. I immediately put her into puppy training, which is a joke. Once she sees a trick, she's got it.
She learned to walk on the lead in one day. Her only problem is puppy attention span – it is extremely short, but she is eager to please. I give her a quick "sppsps" and she looks at me as if to say, "Oh sorry, Mommy, I forgot." We have lived together for five months now, and she is the most wonderfully trained, beautiful puppy, and best friend I could have ever hoped for. We are still working with accepting the cats, but LuLu tries hard everyday to make friends with them. She gives me the look, "Mommy, I want to see the kitties." She is a little rambunctious around them; but she alters her behavior every time, which I find amazing. I do believe they will become fast friends in time.
She is well socialized because of Donna's influence and knows the importance of the pack. When I put her food down, she lets me walk away before she eats. This is of her own accord. I have never seen an animal sleep the way she does. She likes to go to bed at 10:30 p.m. — with or without me. If I oversleep, she lightly barks at me, then paws me, then jumps on the bed and licks me to death. There is no sleeping in anymore and I love it. I want to get up now because the unknown awaits. How one creature could make such an impact is a real gift! People love to pet her and ask about her constantly. I can no longer be a hermit, because she is so outgoing. She loves children and outweighs most of the ones she wants to meet.
Donna, you changed my life when you brought Lulu into it and I thank you.